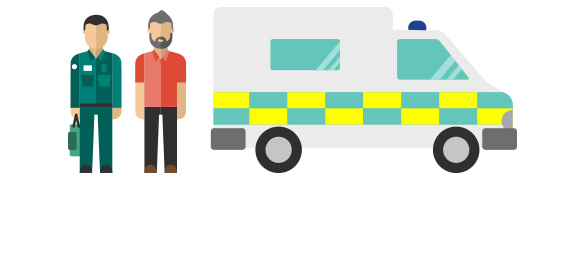 Patients who have had a recent stroke (i.e.  <48 hours ago) are taken by ambulance to one of our three Hyper Acute Stroke Units (HASU). Time is of the essence with stroke, as more of the brain dies the longer a stroke continues. Clot busting drugs are suitable for some patients, but only if given within 4 hours of the onset of stroke. Research also has shown that patients do better if they are treated for the first few days in a HASU, as these centres provide specialist stroke care.
It is therefore critical that an ambulance is called for patients where the onset of stroke symptoms is <48 hours ago – the FAST test can be used to help diagnosis. This video shows you why this is so important.
Patients who have had a stroke >48 hours ago are treated at a District Stroke Centre (DSC) in their local hospital, as they need rehabilitation rather than emergency stroke care, and won't benefit from going to a HASU.
You can find more about stroke here and find out which of our hospitals are HASUs and DSCs via our interactive map. You can learn about our work reviewing the pathway here.