Acceptance Commitment Therapy (ACT) training
Registration opens at 9 am. The event starts at 930am and finishes at 4pm
AJ Bell Stadium, 1 Stadium Way, Eccles, Manchester M30 7EY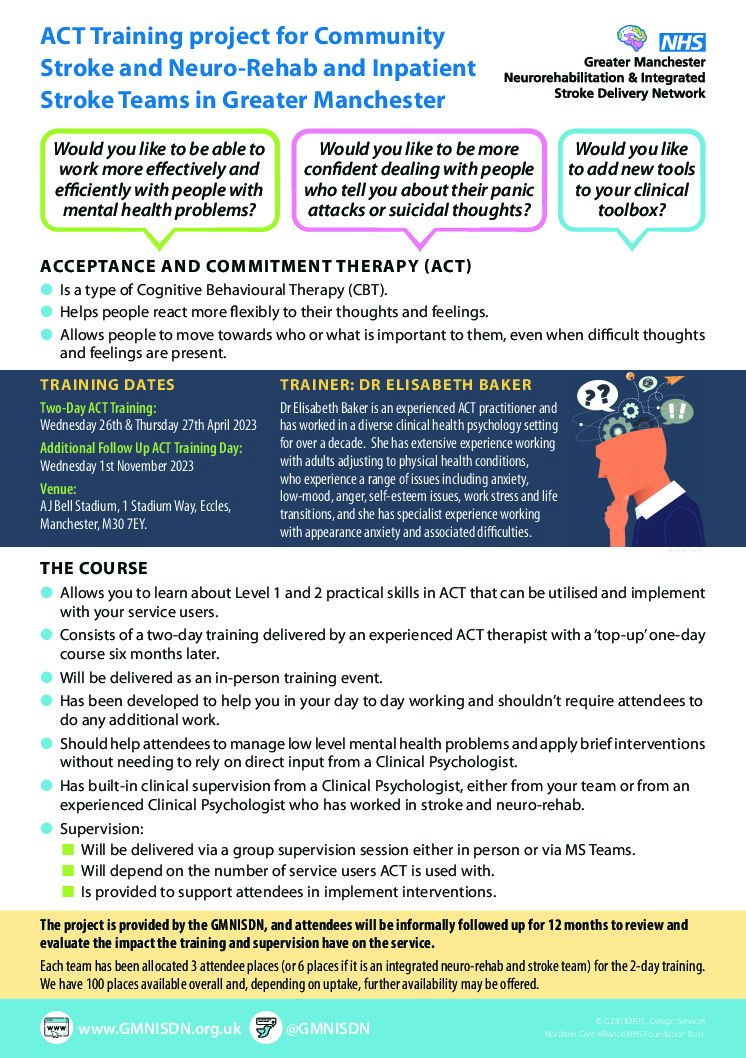 The training aims for this two day training are
Explore the six core processes of ACT
Identify ways to change our relationship with difficult thoughts and feelings
Learn how to use values as a guide for effective living 
Learn strategies and tools to use in your work with service users
The training will be delivered by Dr Elisabeth Baker, who is an experienced ACT practitioner and has worked in a diverse clinical health psychology setting for over a decade. She has extensive experience working with clients adjusting to physical health conditions, as well as providing specialist assessments for individuals making decisions about undergoing surgery. In her private practice she works with adults experiencing a range of issues including anxiety, low-mood, anger, self-esteem issues, work stress and life transitions. She has specialist experience in appearance anxiety and associated difficulties: social anxiety, preoccupation with body image and adjustment to a change in appearance.
She also provides group supervision to a range of clinicians including Clinical Nurse Specialist's, Physiotherapists, and Clinical Psychologists working in a variety of NHS settings. She especially enjoys providing introductory ACT training to the NHS.
Additional places per team may become available (currently limited to 3 for stroke and neuro only teams and 6 for combined teams). If you do not need the maximum number of places allocated then only register as many as you need.
The deadline for registration is 31st March 2023.
ACT Training Registration Form