Neurorehabilitation annual conference
The network hosted its first face neurorehabilitation annual conference for several years on the 12th October at the AJ Bell Stadium in Eccles. The event was attended in person by around 120 people with a further 40-50 joining online at any one time via the LiveStream which has already been viewed nearly 300 times.
We were delighted to share a packed programme of thought provoking talks, which raised key themes around increasing the evidence base and involvement in neurorehabilitation research, as well as highlighting more innovative approaches to patient care. There was a good mix of charity and commercial stands to keep delegates interested and informed about developments and services.
Our poster competition featured a record breaking 20 entries in the inpatient and community categories, with prizes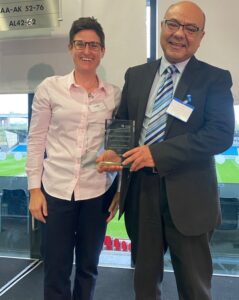 awarded for winners and runners up. Our Manager also made two awards for outstanding contribution to neurorehabilitation, firstly to Dr Fayaz Morcos from the Floyd Unit and NR Network Inpatient Clinical Lead for many years. Unfortunately, the other recipient, Ashleigh Knowles, from HMR CNRT and the network's Community Lead did not attend in person and so will be visited in the next week to receive her accolade.
RCP CPD accreditation has been awarded for 4 credits, code 142015. The individual videos for each talk will be uploaded to our YouTube channel NR Conference playlist when available and you can download the slide sets from the programme below:
Music Therapy in Trafford INRU