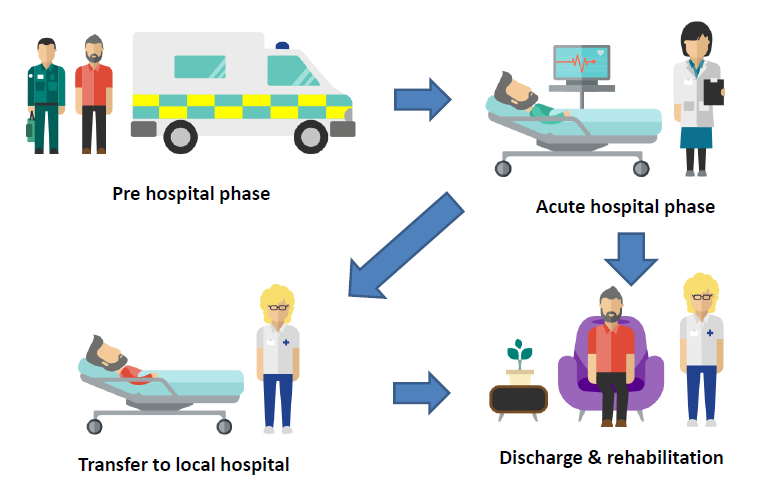 Improvements to stroke care in our region have been driven through managed networks; initially the Strategic Clinical Network which established an Operational Delivery Network in 2015. In 2020/21, we evolved to become an Integrated Stroke Delivery Network joining 19 others set up across England as part of the Long Term Plan. In 2021, we merged with the Neurorehabilitation network to become to organisation we are today.
Work led by the network has focused on:
Preventing stroke
Re-organisation of hospital stroke services
Optimising the ambulance pathway
Improvements to inpatient care
Implementing integrated community rehabilitation services
Life after stroke
Underpinning these programmes has been the training and education of staff, with significant involvement from our Patient and Carer Group
1. Preventing stroke
Most strokes could be prevented, and we are working locally with stakeholders including commissioners, primary/secondary/community clinicians, Health Innovation Manchester, Greater Manchester Health and Social Care Partnership and the voluntary sector to reduce incidence. Find out more here.
2. Re-organisation of hospital services
In March 2015, acute stroke services in Greater Manchester were centralised so that all patients presenting with <48 hours time of onset for stroke are taken by ambulance to a Hyper Acute Stroke Unit, rather than their local hospital. This reconfiguration was based on evidence that these changes would help save more lives and lead to better outcomes.
The network conducted a 12 month review in the summer of 2016, with another review a year later in 2017. Centralisation has led to significant improvements with every resident now receiving 'A' rated care (SSNAP), with reductions in mortality and length of stay.
You can find out more on the impacts and lessons learnt from re-designing our inpatient care pathway here.
We have been part of an NIHR research programme evaluating the impacts of re-organisation in our region and London versus the rest of England. You can review the published findings here.
3. Optimising the ambulance pathway
85% of suspected stroke patients arrive at hospital by ambulance. Ensuring ambulance clinicians recognise stroke symptoms and take patients to the correct hospital for their needs has been our a focus, with our Facilitator Chris Ashton (a Paramedic) leading our efforts.
Improved education and training helps clinicians make the right decisions more rapidly, however, the professional development of ambulance staff can be challenging due to the constant pressures on the service, with staff turnover another barrier.
We have worked to improve the understanding of ambulance clinicians by:
Releasing a mobile phone application that supports ambulance clinicians compliance with the Greater Manchester acute care pathway
Lecturing at local universities to student Paramedics and Technicians
Collaborating with the Scottish Ambulance Service to produce a local version of their FAST assessment training video
Working with the College of Paramedics to host a training event for ambulance staff
Facilitating an improved line of reporting and improved relationships between ambulance and hospital staff so crews can learn from their experiences of caring for stroke patients
We are currently rolling out online training for ambulance staff, with more face to face teaching planned.
4. Improvements to inpatient care
We continue to refine our centralised hospital stroke care pathway using data to drive improvements. We have a Document Pack of agreed Standard Operating Procedures and policies to that help ensure the consistency and quality of care.
We have implemented a pathway for Intracerebral Haemorrhage, have introduced a regional Intra Arterial Thrombectomy service and are working to extend local TIA services across the weekend using a sector based approach.
5. Implementing integrated community rehabilitation services
We have collaboratively developed a community care model that ensures all stroke patients leaving hospital are supported by a specialised rehabilitation team. We continue to work to implement the model across our region. Find out more here.
6. Life after stroke
The new model for improving longer term support was released in 2021 to help network support development of life after stroke services. We are working with local stakeholders including the voluntary sector to help deliver this vision equitably across our region