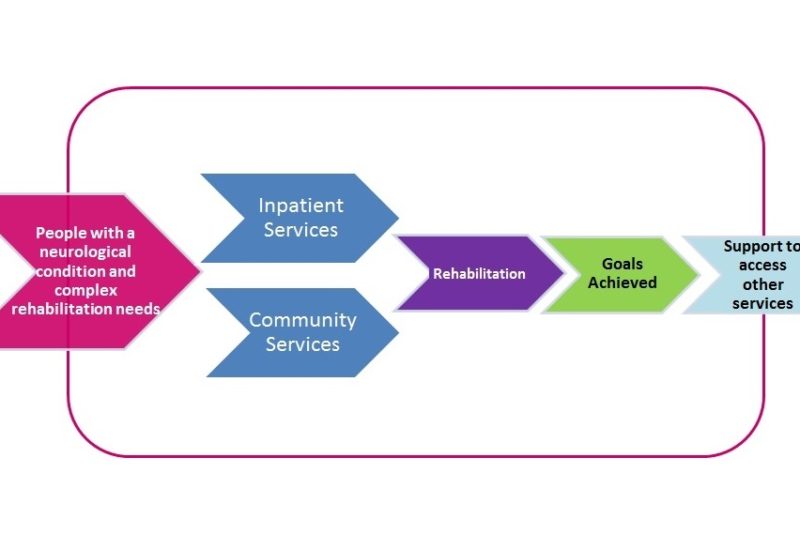 What is neurorehabilitation?
Neurorehabilitation services:
Provide specialist rehabilitation for people with complex needs and a neurological condition
Provide multi-disciplinary assessment and treatment in hospital (inpatient) or in the community
Assess people to identify rehabilitation needs
Develop rehabilitation goals with individuals
Provide treatment sessions to suit the needs of individuals
Help people to achieve their maximum potential
Support people to access other services when specialist neuro-rehabilitation is no longer needed
Rehabilitation is a process of assessment, treatment and management by which the individual (and their family/carers) are supported to achieve their maximum potential for physical, cognitive, social and psychological function, participation in society and quality of living. Patient goals for rehabilitation vary according to the trajectory and stage of their condition.
Specialist rehabilitation is the total active care of patients with a disabling condition, and their families, by a multi-professional team who have undergone recognised specialist training in rehabilitation, led /supported by a consultant trained and accredited in rehabilitation medicine. Generally, patients requiring specialist rehabilitation are those with complex disabilities. Such patients typically present with a diverse mixture of medical, physical, sensory, cognitive, communicative, behavioural and social problems, which require specialist input from a wide range of rehabilitation disciplines (e.g. rehabilitation-trained nurses, physiotherapy, occupational therapy, speech and language therapy, psychology, dietetics, orthotics, social work etc.) as well as specialist medical input from consultants trained in rehabilitation medicine, and other relevant specialties e.g. neurology. A subgroup of patients will have 'profound disability'; these are more severely affected patients who require help for all aspects of their basic care, as well specialist interventions e.g. spasticity management, postural support programmes and highly specialist equipment.
British Society of Rehabilitation Medicine
The network operates across the Greater Manchester and Eastern Cheshire region, a population of over 3 million. We work with stroke and community neurorehabilitation services, as well as with other NHS and voluntary sector providers of support.
The region's inpatient neurorehabilitation care pathway is currently undergoing transformation with services provided at
Salford Royal Hospital, the Floyd Unit in Bury,
the Devonshire Centre for Neuro-Rehabilitation in Stockport and Trafford Intermediate Neuro-Rehabilitation Unit.
Our interactive map below provides more information on our local stroke and also community neurorehabilitation services – please hover over the icons in each area to find out more